It could be said that the use of Icelandic wool products had been in decline in recent years but as the detriments and pitfalls of fast fashion become clear, Icelandic wool is making a comeback. But can you really call it a comeback when the Icelandic sheep and its wool have provided nourishment and clothing for Icelanders since the settlement of the island more than a thousand years ago?
Warm and Fuzzy
Iceland is known for its harsh weather and the kind of biting cold that seeps into one's bones, so how on earth did Icelanders survive before the age of parkas and thermal wear made from synthetic fabrics? They used the wool of the Icelandic sheep, of course.
It's at this time of year that Icelandic sheep are ready for sheering and Icelanders harvest the incredibly warm and valuable wool. Icelandic sheep are perfectly adapted to not only survive but thrive in Iceland and its terribly unpredictable weather. As a result, Icelandic wool has become a vital piece of armor against the cold.
Once the wool is sheered, the layers of wool can be separated and processed. The inner layers are soft, fine and insulating, and can be spun into yarn that is perfect for knitting undergarments soft enough to be worn by infants. While the outer layers are more hardy and robust, ideal for use in mittens, socks and the iconic Icelandic sweater known as a lopapeysa.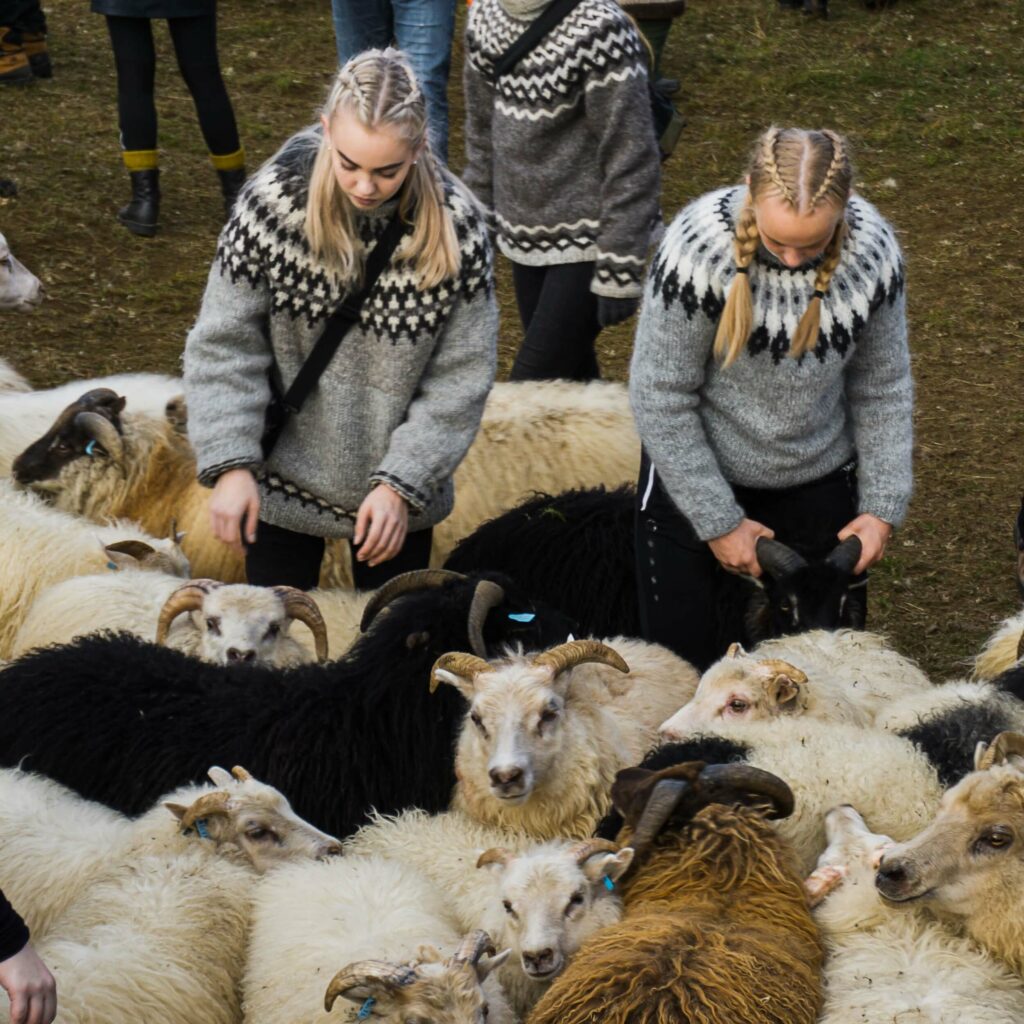 Lopapeysa
The lopapeysa is the traditional Icelandic yolk sweater, unofficial national costume of Iceland and a cultural icon. It is the gold standard among Icelandic knitters–successfully completing one is considered a triumph for the amateur knitter while the more accomplished might sell their masterful work in shops across Iceland to tourists and locals alike.
Whenever there is a gathering of Icelanders and the weather calls for it, which it usually does, lopapeysur are proudly worn. It doesn't get cozier than coming in from a day of doing chores around the farm to sit at grandma's table and enjoy a hot bowl of meat soup made with Icelandic lamb, wearing the lopapeysa she knitted just for you.
Gatherings, such as family reunion, camping trips and rounding up the sheep are made even more special when wearing sweaters that have been hand-knitted by family members and knowing the patterns, if not the sweaters themselves, are passed down through the generations.
Icelandic Tweed
But there's more to Icelandic wool than sweaters and socks. Some shops specialize in high-end hand tailored clothes made from Icelandic wool and Icelandic tweed has even made a resurgence. Yes, Icelandic tweed. Last produced in the 1960s, Icelandic tweed is a new favorite of local designers and architects eager to make fashionable use of an Icelandic staple.
Iceland would be a lot colder and its cuisine found wanting if not for the Icelandic sheep. Its wool and sheepskins are great for keeping warm and Icelandic lamb may just be the perfect food. Find your perfect Icelandic lamb recipe at https://www.icelandiclamb.is/recipes/.