Cooking time: 30 min + marinating overnight | 4 persons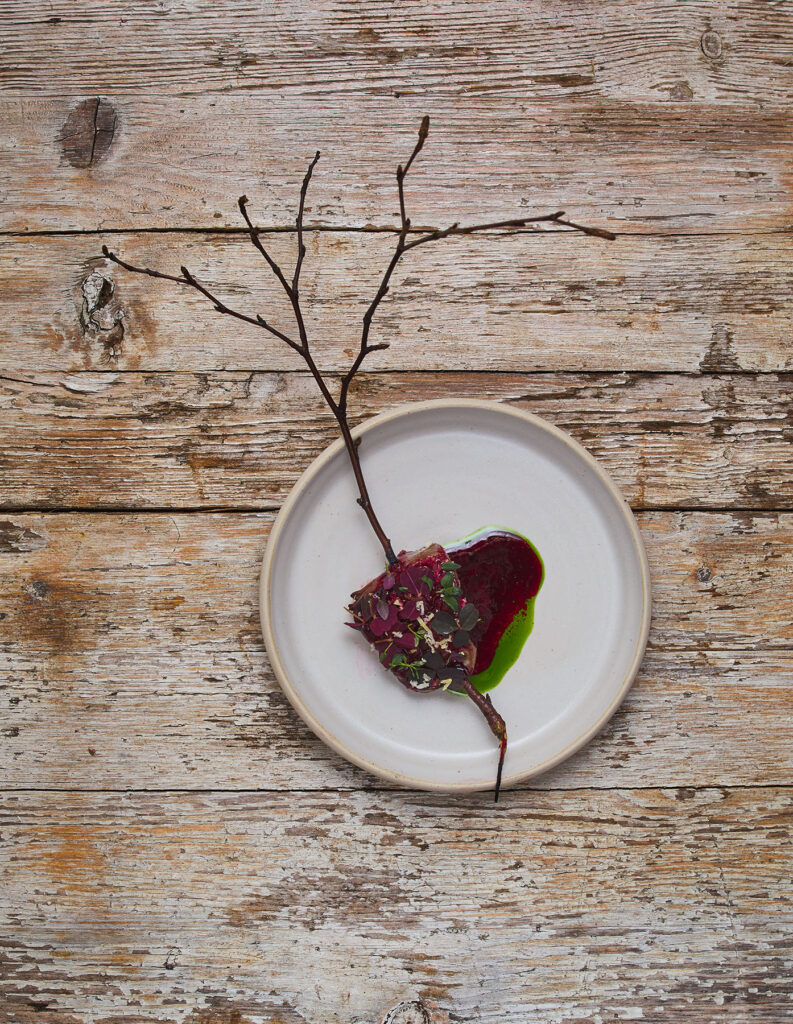 Lamb's hearts are one of the parts of the lamb that is incredibly inexpensive, yet when treated with respect is such an enjoyable part to serve. In Iceland, we have two general methods in preparing lamb hearts: either for a very short time or very long. There is no in-between, really. The older recipes all call for the latter. Cooking it for a shorter time is way better according to Chef Gísli Matthías Auðunsson of the renowned restaurant Slippurinn in the Vestmannaeyjar Archipelago. The recipe is from his book Slippurinn: Recipes And Stories From Iceland published by Phaidon 2021.
Chef Gísli Matthías cooks the hearts medium-rare, preferably over charcoal, you can also just pan fry them, seasoning with a bit of salt and serve them with the earthy flavors of beets, thyme, and birch, plus a little kick from the horseradish, make them so delicate and subtle. We think the combination of red beets and horseradish remind us of Christmas flavors and we suggest you try it as an appetizer.
Ingredients
Grilled lamb hearts
2 garlic cloves, chrushed
5 g dulse, finely chopped
Clean the lamb hearts, by removing excess fat on the outside, slice in half and remove the silver skin on the inside, slice in half again, so you end up with four equal size quarters of each heart. Place in a vacuum or a ziplock bag with the garlic, oil, soy sauce, and dulse. Close and allow to marinate for at least 12 hours in a fridge. Skewer the hearts with birch sticks, or regular skewers, previously soaked in water to avoid any fire. Grill over wood charcoal for about 1 ½ minute per side, leaving them medium-rare.
Redbeet glace
25 ml birch syrup or honey
10 ml apple cider vinegar
Start by putting the red beet juice in a pot and reduce by half (50%). Then add the apple cider vinegar, fish sauce and birch syrup. Remove from the stove, and mix in the butter. Taste and season with salt. If more acidity is needed, add more apple vinegar.
Thyme oil
Put in a blender and mix on full speed until the oil is warm 60°C/ 140°F, or approx10 minutes. The process releases flavor and color from the herb, strain through a cheesechloth and season.
Plating
After grilling, brush heavily with the red beet glaze, put on the plate and add some glaze, and thyme oil. Garnish with the grated horseradish, thyme leaves, and purple wood sorrel.